Top 18 SEO Plugins For WordPress – Part Two
This is part two of my top 18 SEO plugins for WordPress list. If you haven't checked out the first 9 plugins, click here. Otherwise go ahead and proceed to read the last 9:
10. WP Super Cache
We all know that your site's load time has a direct link with where it ranks in the search engines. Well at least Google tells us it's a semi significant factor in the algorithm. In all honesty it's not a huge factor unless your site takes an hour to load – but it's important that your visitor's are able to load pages quickly. What WP Super Cache does is make your site load A LOT faster. It stores a static version of your site so it uses way less CPU which results in a faster load time. It's a must have plugin. If your pages take a while to load, you'll lose a lot of visitors!
11.  LJ Longtail SEO
Despite the stupid name, this is a kick ass plugin. I use this plugin on all of my blogs and I couldn't live without it. LJ Longtail SEO tracks your incoming visitors and the keywords they come to your blog from. It then places those keywords in a widget and links them to their corresponding pages. It's great for internal SEO. It essentially boosts your site's rankings, but has many on-page benefits.
This plugin has really grown on me especially after I saw the increase in traffic it bought me. Pingpack Optimizer just collects all of your blog's pingbacks, creates rss feeds out of them and submits them to all the top rss aggregators. If you don't already know, a pingback is a backlink. So this plugin helps index your backlinks which is a key step to getting better search engine rankings.
13. SEO Pressor
I know, I know, we've all heard about this plugin. The truth is it's a great plugin and will really help you out. If you're an SEO newbie then you need SEO Pressor. It helps you optimize your blog posts and pages for the keywords you input. It doesn't physically do anything (besides bolding/underlining keywords, it just gives your pages/posts a score out of 100% for your keyword and tells you how to improve your score. On-page SEO is vital and SEO Pressor provides you with a check list of things to "optimize" in your posts/pages.
14. Comment Luv
Comment Luv is definitely one of those world famous plugins that everyone hears about. It's not so much an SEO plugin as the others. It's supposed to increase user engagement + commenting. But really it comes with countless SEO benefits so I thought I'd include it in my list.
This plugin does a similar thing to LJ Longtail SEO but a lot more. It stregthens your on-page SEO, helps index your pages, converts the search terms people are coming to your blog from into tags and even more. It also allows you to track which search terms are most popular so you can see which keywords to go after.
If you're short on cash then this plugin will definitely help you out. If you run lots of sites or even 1, it can be a pain in the ass to track your rankings. Where you're ranking for different search terms and how much traffic different keywords are sending you. This cool plugin tracks your Google rankings for your keywords every few days and reports the data in a simple graph. It even emails you when you have a major jump or dip in the rankings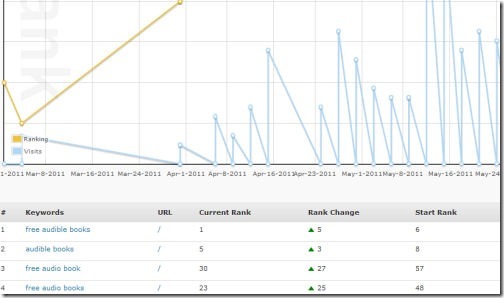 18. Sharebar
This is another plugin that's hardly meant for SEO. It's a little share bar that appears on the side of your blog posts. In the bar are a bunch of different share buttons. You can add share buttons for Facebook, Twitter, LinkedIn, Google+1 and more. It's a fantastic plugin that increases engagement, social activity and traffic! It's a must have plugin, install it at once!
That's it for my top 18 list of SEO plugins. If you'd like to boost your rankings, improve your on-page SEO and ultimately get more traffic, install these plugins!
In Prosperity,
David Wood
P.S. For more cool SEO tips, tricks and secrets, put your name and email in the form below. Also feel free to leave me your thoughts, comments and questions in the comments below!