Top 18 SEO Plugins For WordPress – Part One
If you're an avid WordPress user then you should know the importance of plugins. There are WordPress plugins for literally everything and anything. In fact every day dozens or even hundreds of them are released into the WordPress community and sold for a lot of money. They CAN help your blog succeed. They can help your blog load faster, get more traffic or better search engine rankings. As I said there are plugins that do everything…
Need a plugin to auto share your posts on social networks? – done.
Need a plugin to automatically build backlinks? – done.
Need a plugin to tuck you into bed each night? – working on it. (Kidding)
The point is you absolutely must utilize WordPress plugins to help your blog succeed. You'd be stupid not to, the amount of plugins I use is getting a little ridiculous. Saying that I have a lot of them to thank for how much traffic my blog gets and how it functions while I'm chilling out on the beach. With all that being said here are 9 of 18 of the best SEO plugins for WordPress:
I figured I;d start with the obvious ones – starting with All In One SEO Pack. This thing is a beast of a plugin, I never start a site/blog without it as it's vital.
All In One SEO is one of the most widely talked about plugins in the world. It's definitely one of the most popular probably because it's stupidly easy to use.
As the name suggests it's an all in one SEO plugin that helps you configure your blog's meta tags. Once installed a widget will be displayed below your "add new post" page with a box for your post's title, description and keywords.
It helps you optimize your meta tags, really useful plugin that's an absolute must have.
Platinum SEO is essentially an all in one SEO alternative. Some people love it, others hate it. It's a one or the other really. Platinum SEO does everything AIOS does, but a little more. Features like automated 301 redirects for permalink alterations, it helps you avoid duplicate content and auto generates meta tags for you. With all the great features; Platinum SEO is a no brainer unless you prefer All In One SEO.
Sitemaps are another essential element your blog must have. Without going all techy on you, sitemaps allow Google/other search engines to easily crawl and index your blog. Every blog needs a sitemap and out of all the plugins I've tried, Google XML Sitemaps is the quickest & easiest to use.
SEO Smart Links is a fantastic plugin that lets you link keywords/phrases in your posts to their corresponding pages, tags, posts and even categories. Why use it? Well it's great for internal linking which search engines love.
What SEO Smart Links allows you to do is input a list of keywords/phrases and a list of links next to them you want them to point to. If you input SEO and set it's corresponding URL to your blog's home page. Whenever "SEO" comes up in a blog post it will automatically link to your home page.
You know when you click a link or input a URL and it brings you to a stupid 404 error page that says "sorry, this page doesn't exist". Well those stupid 404 pages can be customized and the 404 SEO plugin helps you do exactly that.
What this plugin does is allow you to customize the message and it also displays a list of relevant links. Trust me, even if you think you have no 404 pages, you probably do. Or people link to the wrong URL or input it incorrectly – some people will get that 404 error.
Another cool plugin that helps you optimize your images. Few people know but, image alt tags are an important part of on-page SEO. Google can't read images or admire a great photo, you need to tell Google and other search engines exactly what your image is about.
You do that by using image alt tags. And… they are a pain in the ass and I almost always forget to use them. So this handy plugin automatically inputs alt tags for all the images in your blog posts.
We all know there's a huge debate over Nofollow/Follow and what you should use for the different links on your blog/site. I'm not going to get into that now as it's too complex for this post – so I'm going to let you be the judge. This snazzy plugin allows you to remove or apply the nofollow attribute to your comment links, pingbacks, trackbacks, external links and more. You can even select which attribute to use for individual links, great plugin!
This one is a little different, it adds a cool share bar above/below your blog posts like this: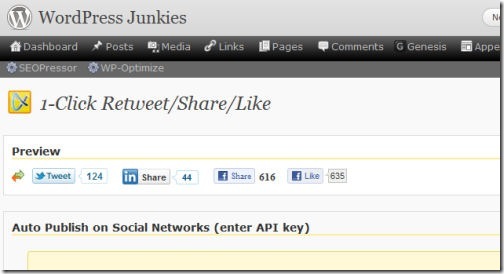 The plugin can add a Facebook Like, Facebook Share, Twitter, Google +1 share buttons and more. What's even cooler is the automatic publishing feature that allows you to post your content on over 40 social networks automatically. While doing so you're growing your social presence and gaining 1 way backlinks for no extra work. That feature only works if you integrate with Links Alpha though. (Look it up)
This plugin allows you to add robot tags to all of your WordPress pages. With it you can add meta tags to pages and posts, you can also stop search engines from indexing your login/admin/plugin and comment pages. Very Useful!
>>> Click Here For Part Two <<<