4 Best SEO Tools For Search Engine Domination
SEO is fun and despite what people say, it's not hard. There really isn't that much "skill" involved. You just have to know your stuff. , get your overall strategy right, adapt to the search engines and use a wide variety of backlinks. Now I don't give a crap what the guru's or SEO companies have been telling you, artificially creating backlinks is your only option. But what about natural links? I don't think so, I mean come on… in today's competitive market you can't afford to sit around and wait for the links to come.
News flash people, you're hardly going to get any natural links, not enough to compete with today's marketers anyway. Ok, there are a few exceptions as I just know I'm going to stir up a few arguments here. Site's like Wikipedia and other massive authority sites are all natural. But that's only because everyone under the sun knows about them and that they're information is probably correct 99% of the time. So webmasters reference them left, right and center, they steal their content and link back to the original source.
So that happens… but if you're an average Joe with a blog or website that's not 10+ years old and isn't known worldwide, you absolutely must take advantage of the resources you have available. This means using SEO tools to automatically build backlinks for you.  So here's a list of the top SEO tools that are must haves in today's ever-growing market place.
1. Senuke X
Above all tools I've personally tried, Senuke X is far superior to anything else. You don't even have to take my opinion for it; there are thousands of others who will tell you the same. Senuke X is an all in one SEO tool that completely automates the process of link building. Here's where it submits to and some of its features:
Social Network Sites (HubPages, Squidoo, WordPress etc)
Article Directories
Press Release Sites
Forums
Web2.0 Profiles
Video Directories
Social Bookmarking Sites
RSS Aggregators
Pinger
Indexer
Really, the tool does a lot more. The cool thing is that you can literally draw your link building campaign connecting all the modules together. It then goes off, creates accounts, defeats captchas, posts unique content, then another module starts and builds links to the links it just built. Really, this is a ninja tool and it's the best all in one tool for practically guaranteed rankings. Check out one of my most successful campaigns:
Cool ehh? The tool can also be scheduled to run automatically over a set number of days. I simply dragged and dropped the modules into place to create a solid link building campaign, post in a few spun articles and set it up to complete the campaign over 7 days. Result? Top rankings within one to two weeks. You can check out Senuke X at senuke.com for more info.
2. Xrumer
Xrumer is basically the most powerful SEO tool out there. It doesn't offer all the customization that Senuke does, it doesn't even submit to the same sites. Xrumer is renowned as the Forum monster of search engine optimization. The thing can scrape, register and post to hundreds of thousands of forums in hours. This thing can build countless backlinks, I'm talking millions. What it does is register on forums, confirms the accounts by email, then logs in and edits profiles placing links to your website.
It's better than any other tool in terms of sheer power; it can create way more links than anything else. The only down side is that forum profiles aren't going to rank you #1 for highly competitive keywords. You need to mix them in with some web2.0′s, article directory and other links. Xrumer is great for blasting your other backlinks driving insane amounts of link juice through multi tired link structures. Mind boggling stuff I know…
It can also do some other ninja stuff. Like posting threads and replying to user's posts. Using anchor text in your signatures along the way to drive rapid traffic and even more link juice. With the capability of running hundreds of threads at a time, at speeds faster than known to man, it's a must have tool for any serious SEO marketer. Click here to checkout the Xrumer site. (It's made by crazy Russians)
3. Article Marketing Robot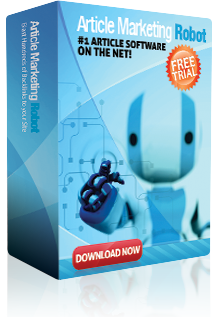 As we all should know, article marketing rocks and can be used to build incredibly powerful backlinks while driving vast amounts of traffic directly to your website. I love article marketing and it's one of the oldest tricks in the Internet Marketing book. It's worked for years and should continue to do so for decades. While most marketers use article marketing for traffic generation, the backlinks you can get from author resource boxes can explode your search engine rankings.
Really, there aren't that many article marketing tools out there. Every other article marketing tool is missing something. They're either semi-automated and or submit to a limiting number of directories. I've personally tried and tested a dozen odd tools like AMR (short for Article Marketing Robot) and none of them compare. Article Marketing robot submits to thousands of article directories. All of the authority directories included such as:
Ezine Articles
Article Base
Go Articles
Along with thousands of others, AMR also submits to WordPress blogs. So you're also getting a pretty substantial blog network in the package. If you really are determined to dominate the search engines, you need an article submission tool. Article marketing should be a mandatory segment of your SEO campaign. Click here to checkout AMR.
4. Scrapebox
Scrapebox is one of my favorite tools for many reasons. Above all, it's because it literally has several hundred uses. Maybe not several hundred, but its main features are:
URL Scraper
Proxy Scraper
Page Rank Checker
Index Checker
Email Grabber
Export/Import
Comment Poster
Pinger
Those are the features I make use of, but there are a ton more. Above all, Scrapebox is known for its ability to mass post comments. By entering in a few keywords, Scrapebox can harvest hundreds of thousands of relevant blogs to comment on. It comes with a name and email generator. You just have to enter in the URL's you want to promote. Really simple to do, then you press start and away it goes.
You can tell Scrapebox to use 200+ threads if you like so it's lightening fast. When combined with the other tools, Scrapebox is the bomb. It's not good to spam your money sites with tens of thousands of comment links, so I mostly use Scrapebox to hit my backlinks.
By backlinks I mean web2.0′s and all of the "content backlinks" I've built. With the Page Rank checker, you can quickly filter out the crappy blogs so you can build high quality links to your money site. Page Rank 3, 4, 5 or even 6 and above… take your pick. The tool is powerful, not much else to say. You can learn more about Scrapebox and pick it up by heading over to the Scrapebox website.
Those are really the only 4 SEO tools you'll ever need. If you buy them all and use them in conjunction with each other, you'll be unstoppable. How can you use them together? Well you use Xrumer and Scrapebox to do some light link building to your money site. Then you use Senuke X and AMR to build super high quality backlinks. Once built, you blast them all with thousands of blog comments and forum profiles. I know they all come at a price, but at the end of the day SEO is completely free and the traffic it drives is second to none!
In prosperity,
David Wood
P.S. If you'd like to learn how to become a freaking SEO ninja, put your name and email in the form below this page!
P.P.S. Feel free to leave me your comments, thoughts and questions in the box below.